Freeze Refrigeration, Inc. is a small, family owned and operated Heating and Air Conditioning Company. We have proudly provided sales, service and installation to Mooresville and the surrounding areas since 1979.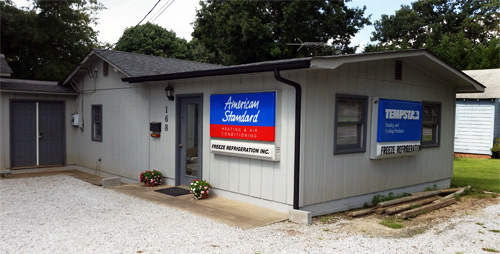 Freeze Refrigeration was created in 1979 by Joel and Mike Freeze. The Freeze brothers were born and raised in the Mooresville area and graduated from Mooresville High School. Joel started out working on refrigeration at Mooresville Ice Cream and at Joe Christie Refrigeration. Mike Freeze began his career for an appliance company in Statesville. After discussing the idea, they decided to go into business together, creating Freeze Refrigeration, Inc.

When Freeze Refrigeration was created they began working mainly on refrigeration and small appliance repairs. After being in business a few years they became more involved in the HVAC industry. As Freeze Refrigeration and the Mooresville, Lake Norman area began to grow, they hired more employees to help with the increased work load. During the growth, it was important to Joel to keep it a family-oriented business with a friendly work environment for all employees.

Mike would eventually retire and Joel would become the president and sole owner of Freeze Refrigeration. Joel's daughter, Heather, joined the business in 2006 to become the office manager and oversee all daily operations.

Freeze Refrigeration is a full service HVAC contractor that takes pride in every job we do. Our goal is to make sure every customer is 100% satisfied with the work that's been completed.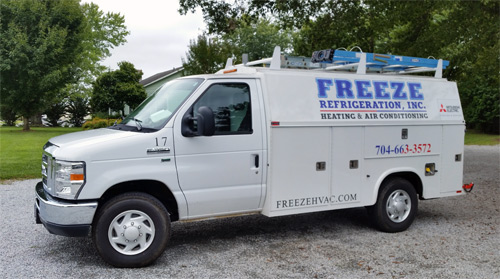 We contribute our continued success in the HVAC business to providing our customers with honest and loyal service.

We have a dedicated and professional staff who strive to stay current on the latest technology in our industry. Our service technicians and installation crews are professionally trained in order to deliver the highest quality service to our customers.

We take pride in being personable with each of our customers and thoroughly explaining our repair or install processes. We look forward to helping you with all your HVAC needs.
Meet the Team at Freeze Refrigeration, Inc.
Joel Freeze
Owner / President
Joel Freeze is the Owner and President of Freeze Refrigeration, Inc. He was born and raised in Mooresville, NC. He graduated from Mooresville High School and attended Rowan Cabarrus Community College.
Since the inception of Freeze Refrigeration Inc. in 1979, he has enjoyed growing his Heating and Air Conditioning business. Being a consumer himself, he knows how important it is to do business with a company that is reputable and trustworthy. He prides himself in providing honest and loyal service along with affordable pricing to all of his customers.
Joel and his wife, Sherry, reside in Mooresville, NC. They enjoy playing golf and spending time with their children, grandchildren, family and friends.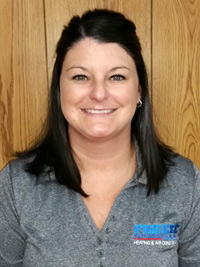 Heather Freeze
Office Manager
Heather Freeze is the company office manager and primary customer service representative for Freeze Refrigeration, Inc. She manages the daily operations of the company and assists the owner, and father, Joel Freeze on job sites and with estimates. Heather has always enjoyed the family business. After graduating from Mooresville Senior High School in 2002, she pursued her Associate's Degree from Mitchell Community College. Earning degrees in both Business Administration and Accounting, developing the skills she needed to help operate the family business.
After graduating from Mitchell Community College, she joined Freeze Refrigeration, Inc full time in 2006. Working for the family business has been a long-time goal that began when she rode with her dad to job sites as a child. One of her favorite parts of working with Freeze Refrigeration, Inc is getting the opportunity to continue those experiences and work side-by-side with her father.
When Heather is not working at Freeze Refrigeration, Inc. she is also a part-time Radiologic Technologist at CMC – Northeast. Heather's academic pursuits returned to the classroom at Rowan Cabarrus Community College and in 2013, she graduated as a certified Radiologic Technologist. She also enjoys time with her family – especially her two nieces. She enjoys trips to the mountains and beaches of NC where she likes to spend vacations with family and friends.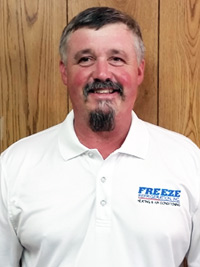 Bob Bennett
Field Supervisor
Bob Bennett graduated from AC Reynolds High School in 1981. After high school he graduated from the HVAC Program at Asheville Buncombe Technical College in Asheville, NC. Bob worked in the Asheville area for two different HVAC companies before moving to Mooresville in 1989 to join the Service Department at Freeze Refrigeration, Inc.
He performed service work for over 20 years until he began getting more involved with the installation side of the business. Currently Bob is involved in all day to day operations which consists of giving estimates, service and installation.
Bob is married with one son, one stepson, 3 dogs and one cat. In his spare time, he enjoys taking his old Chevy to car shows, salt water fishing, stock car racing, watching football, baseball and spending time with his family.